Handheld Vacuums
Stark's Vacuums in Portland OR – Vancouver WA – Bend OR
Handheld vacuums have come a long way since being first introduced, and new models have better batteries, a longer lifespan, and more powerful cleaning. If your household vacuuming needs a boost, take a look at a handheld vacuum!
Shop Handheld Vacuums at Stark's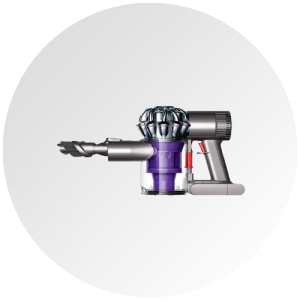 Why Choose a Handheld Vacuum?
Handheld vacuum cleaners are convenient, easy to store, and great for quick cleaning jobs. These vacuums are excellent choices for busy homes that need frequent cleaning or sweeping, as well as any homeowner who needs to clean corners, stairs, upholstery, or curtains. In recent years, many features have been added to handhelds that make them better and more versatile at cleaning a variety of surfaces, as well as cleaning above-floor cleaning (i.e. drapes, stairs).
Benefits and Features of Handheld Vacuums
A handheld vacuum is easy to use.
Handhelds are easy to store, and convenient to retrieve when cleaning is needed.
Handhelds are generally bagless.
These vacuums are better than ever, with long battery lives and better brushrolls.
Some stick vacuums can actually convert to handheld vacuums–you get two types of vacuums for the price of one!
Talk to an Expert About Your Vacuum Needs!
At Stark's, we've been providing the Northwest with the lowest prices and highest quality products since 1932. Chat with one of our vacuum experts to discuss your needs and take advantage of our lowest price match guarantee!

Professional Handheld Vacuum Consultants
Choosing a vacuum can be overwhelming, especially if you're looking for a vacuum to serve your house for many years! Let Stark's take the stress out of vacuuming!
When you come into Stark's to choose a vacuum, we'll walk you through any and every feature you want to explore. By determining your household needs and vacuum desires, we can find the perfect model for you. Because we carry a range of accessories, we can upgrade your vacuum far beyond the basic model, outfitting your new appliance with features you may not even know were possible. Come into Stark's today!