Stark's Vacuums

Vacuum Repair & Service
4.6/5 stars — 300+ reviews
Get a Free Vacuum Repair Estimate
"*" indicates required fields
Why Choose Stark's for Vacuum Repairs?
We Guarantee our Work – If anything goes wrong with a repair we've done, we'll happily fix it. We Stand behind everything we do.
Free Expert Help – As our customer, you've made a friend for life. Call us, text us or come visit and we will be happy to offer you any help we can.
Free Estimates – Bring your vacuum to any of our nine locations and we will provide a fast and complete diagnostic to provide you with an estimate while you wait.
Free Loaner Vacuum – You will not have to go without a vacuum while we are repairing yours because we'll loan you a vacuum at no charge.
Factory Authorized – Because we are the largest independent vacuum dealer in the US you will get priority service from all our manufacturers
Convenience – 9 convenient locations open 7 days a week to serve all your vacuum repair needs.
We service and repair most major brands of vacuum cleaners. We provide no-obligation, FREE estimates before any work is performed.
All vacuum repairs carry a 90-day satisfaction guaranteed warranty.
And, if our certified vacuum repair technicians are unable to fix your vacuum or the repairs don't warrant the cost to do so, Stark's Vacuums will offer you a credit if you would like to purchase any new model from our wide selection of vacuums in our showroom.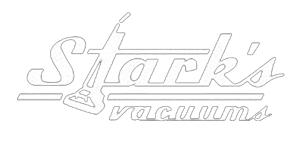 Have a question for our Vacuum Repair Experts?
Complete the form or bring your vacuum into any of our 9 Portland, Vancouver or Bend area Stark's Vacuums locations for a FREE estimate.
Comprehensive 15 Point Vacuum Repair Service:
$99.95*
Check airflow
Inspect & clean airways
Check switches
Check circuit boards
Check electrical cord
Inspect & clean brush roll
Inspect brush roll bearings
Inspect & service motor
Check lights
Check all filters
Install new brush roll belt (included in price)
Install new bag (included in price)
Install any new parts, as needed*
Clean motor and interior using high-pressure air
Performance Check
Additional Vacuum Repairs & Services:
Vacuum Belt Change:$4.95*
Grease Pack or Bearings:$19.95*
Power Nozzle, Hand Vacuum or Broom Vacuum Service:$49.95*
Commercial Vacuum Service: $99.95/hr* (1-hour min, billed in 15 min increments thereafter)
Add'l Deep Cleaning:$14.95
All Estimates: FREE
* All services and repair costs are for labor only;
parts sold separately and are subject to availability.
Protect Your New Vacuum!
Platinum Plus Service Plan
$99.95 (a $400-$600 value!)
Keep your new vacuum in tip-top shape for years to come. Add our Platinum Plus Service Plan with the purchase of any vacuum and receive the following service benefits and peace of mind:
4 FREE comprehensive "15 Point Vacuum Service" Tune-Ups (a $400-$600 value) for the life of the vacuum
10% discount on all vacuum accessories, bags, belts, filters and parts.
Service Priority – your vacuum with receive priority service over other non-Platinum Plus Service Plan holders, so you get your vacuum back faster.
Loaner Vacuum – If we are unable to fix your vacuum on the spot, we will provide you with a FREE loaner vacuum to use until yours is fixed.
VACUUM BRANDS AVAILABLE AT STARK'S
Air Vac
Beam
Bissell
Bosch
Central Vac
Compact
Dirt Devil
Dust Care
Dyson
Edic
Electrolux
ElektraPure
Eureka
Evolution
Filter Queen
Fuller
Hokey
Hoover
HP Vacuflo
IRobot
Kenmore
Kirby
Koblenz
MD
Miele
M&S
Numatic
Nutone
Oreck
Panasonic
Phillips
PowerStar
Pullman
Rainbow
Riccar
Royal
Rug Doctor
Sanitaire
Sanyo
Samsung
Sauber
Shark
Sharp
Sebo
Simplicity
Sweep/Groom
Tornado
TriStar
Vax
Wertheim
Wessel
Does My Vacuum Need to be Repaired?
Vacuums should be built to last for years, not months! Because we only sell brands we trust, you can rest assured that when it comes time for repair, we'll know exactly how to help.
But how will you know if your vacuum needs repairing?
You hear loud squeaking or knocking
You can smell burning
Your vacuum won't turn on
There's no suction
Your filter blows out dirt
Cracks or missing screws in the body of your vacuum
These are all indications that your vacuum needs servicing. If you live in the Portland Metro area, just bring your vacuum into any Stark's store. Let the service counter know you need a repair, and we'll happily unload your vacuum from your car.
Find Your Local Stark's
Best Vacuum Cleaner Repair and Maintenance Tips
Keep it clean – Every couple months wipe off any dirt and germs from the attachments, hoses, body. Use a mild detergent of your choice! Use the hose to vacuum any dirt and debris from the attachments after every use.
Check Suction – Check for a clog in the wand, hose, and brush as well as any intake and exhaust ports. If you can't figure it out, contact us or bring it in for our expert assistance.
Remove Hair & Fiber From Brush Rolls – Use a seam ripper or scissors to cut and remove any hair and fibers and remove.
Replace Vacuum Bags – Air flows through the bag and if you let it get more than 3/4 full you will have reduced suction and cleaning ability. Check the bag often and don't rely completely on vacuum indicators.
Replace Filters – Check any replaceable filters every couple months. As they become dirty you will lose suction. Do not use the vacuum without a filter. As a note, even vacuums with permanent filters sometimes need to be replaced, such as Dyson.
Check the Belt – If you are noticing you have to vacuum over an area multiple times, check the belt to make sure it isn't stretched or worn. We have belts online and at all nine locations and will even put it on for you.
Regular Service – Get your vacuum serviced on a regular basis to keep it running at peak performance and extend the life of your vacuum cleaner. We offer service plans on any new vacuum you purchase from us.
Vacuum Service and Repair - Starks Vacuums
10 Vacuum Stores in Portland, Vancouver, and Bend