The Northwest's Premier Vacuum Store
Stark's Vacuums first opened in 1932, and we've sold a lot of vacuums in the last ninety years or so. We sell the best and most durable vacuums in the Pacific NW, but there are a few models and brands that rise above the rest, time and time again. Here are the four best-selling vacuums we carry!
Current Promotion, Pet Hair, Riccar, Upright Vacuums

Riccar R25 Pet Premium

$

699.95

 Dirt Sensor - Amber lights turn on when dirt is found.
 360 Turning - No more awkward pIvoting with simple 360-degree rotation.
 Carrying Handle - Balances weight perfectly for carrying on stairs or between rooms.
 Granulated Charcoal Filter - Your best defense against pet odors.
 Full Bag Indicator - A light reminds you when to replace the bag, eliminating guesswork.
 HEPA Media Filter - Keeps particles trapped in the filter instead of blowing them back into the room.
 Self-Sealing HEPA Media Bag - Meets HEPA filtration standard of 99.97% efficiency at 0.3 microns. Self-sealing bags are simple to attach and remove for clean disposal.
 Metal Brushroll with Replaceable Brushstrips - A strong metal roller is designed to perform well and to last for many years. As you'd expect, brushstrips are replaceable and are customizable to your home's floors.
 On-Board Tools - Tools are stored on-board for easy access.
 Red Carpet Service Plan - Offered at participating retail stores, this scheduled maintenance keeps the vacuum running at its best.
 Squeegee - Cleans bare floors beautifully.
 Silver Seal of Approval - Carpet and Rug Institute tested for soil removal, soil containment and carpet wear.

Add to cart
We price-match Amazon with local service. Guaranteeing low prices since 1932.
See Why We've Been the PNW's Choice in Vacuums for 90 Years
Local to the PNW – Since 1932
Looking for the perfect vacuum? Whether it's a vacuum for pet hair or an easy to maneuver cordless vacuum, we carry all the top vacuum brands.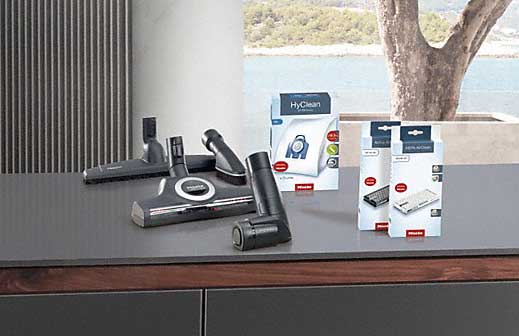 We carry more than 200 vacuum bag styles, hundreds of filters and belt types, over 50 hose styles and hard-to-find parts for most major brands.
We service and repair most major brands of vacuum cleaners. We provide no-obligation, FREE estimates before any work is performed.
Interested in a wholesale order of our face masks? Send an inquiry below. Screen printing available for custom logos and graphics. 
We provide no-obligation, FREE estimates before any work is performed. All repairs carry a 90-day satisfaction guaranteed warranty.
Our vacuum museum is a one of a kind experience! Learn about the history of vacuums and view some of the most iconic vacuums.
Try a Vacuum Before You Buy
Let Stark's take the stress out of vacuuming! When you come into Stark's showroom to choose a vacuum, we'll walk you through any and every brand that you want to explore, from Dyson canister vacuums to Miele uprights.
By determining your household needs and vacuum desires, we can find the perfect model and vacuum brand for you. With Stark's Low Price Guarantee and extended warranty, you can buy your new favorite vacuum with total confidence.
Come into Stark's today, and find out which vacuum is right for you!
Stark's Vacuum Stores - Starks Vacuums
10 Vacuum Stores in Portland, Vancouver, and Bend